Progetti
Nordic World Ski Championships 2013
The launch of our lanterns was an important event during the opening ceremony of the Nordic World Ski Championships on February 20, 2013. Our lanterns had the perfect setting, the happening was broadcasted live on RAI sport from the Stadio del Fondo di Lago di Tesero, Val di Fiemme.
The Film: The Dark Side of the Sun
The film "The Dark Side of the Sun" was presented at the Rome Film Festival on 11/4/2011. The movie is coproduced by Rai Cinema – Doc3, DR2 (Danish National Television), NHK (Japanese national television), YLE (Finnish National Television) and is distributed by Films Transit, the company that received the award as "distributor of the year" at the festival Hot Docs Canadian documentary.
The film describes the universe of a rare disease, Xeroderma Pigmentosum, which forces few kids in the world to live away from sunlight, in complete isolation. However, this does not happen at Camp Sundown where the sick children of XP can meet and play together at night, hoping for a normal life.
Lanterne Volanti (NL) and Mille Belle Cose SRL has worked on this project as Artistic Consultants and associate producers: our sky lanterns have lit up these kids spirit, and have contributed to their special summer. Watching the night sky covered with floating lights allows adds a magic dimension. Our creativity through a wide range of articles to contribute to this important project.
ENI and Lanterne Volanti
Some time after the shoot we have received an email from the art director of this spot.
Hi guys,
I know the lanterns from the spot we made in Rome for ENI (I am the Art Director) where we have used them. I live in Mallorca in the countryside and have thought to use your lanterns one special evening, for instance New Years Eve, think my 2 year old daughter will like them better than the usual fire crackers. Hope you will send me the same white ones as we used last time
p.s. at below link you can watch the spot of ENI with the lanterns, kind regards, Cesare Danese

Special project:
Our lanterns in via Fori dei Imperiali Rome the evening of 5/6 oktober 2010 for the occasion of the opening of the Chines Cultural Year in Italy in the presence of the Italian and Chinese Prime Minister.
L'ora della Terra
We are WWF Italy's technical partner for Earth Hour, our flying lanterns and candlebags have lit since 2011 the Italian Earth Hour, they brought light to the most important cities of Italy.
During this international event the light in all world cities is switched off as a symbol for the battle against climate change, the only way to secure our future.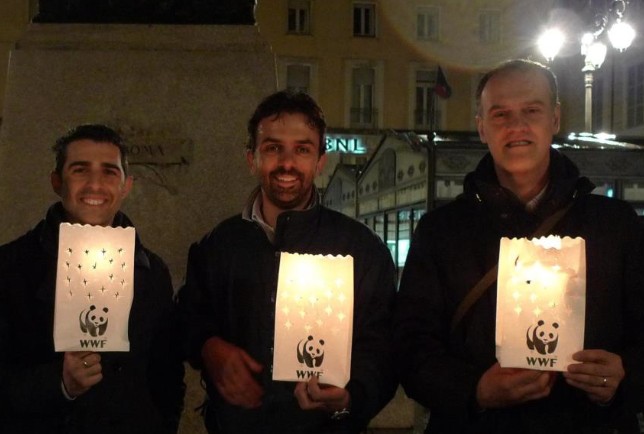 Company meeting with Thai Lanterns
A company event with our lanterns held at Veneria Reale Turin, the Royal Palace of Turin.
Bacardi Rum: The Island
The well know publicity with the party people on the Island launching lanterns in the end.